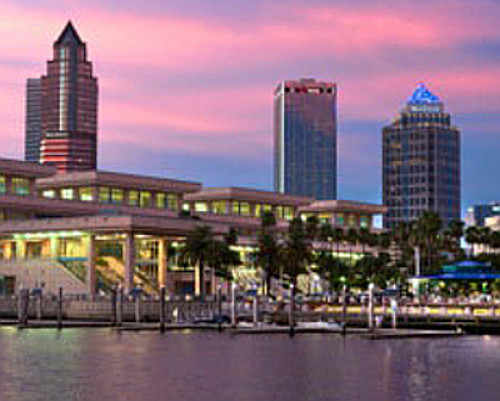 Bay Bar & Bistro – Tampa Convention Center
If you happen to be inside the Tampa Convention Center and suddenly find that you could use a bite to eat, have no fear, we got you covered!
The Bay Bar & Bistro has indoor and outdoor seating that looks out on the Riverwalk. It's similar to Panera, with a short menu of contemporary dishes, from house made chips with a Maytag blue cheese drizzle and dots of balsamic glaze as a counterpoint to a daily flatbread pizza. Also served here are old fashioned burgers and bistro salads and sandwiches, which are popular with local foodies as well as event goers. Their Bayside Cheeseburger comes with all the fixings and is served on a brioche bun. The Bay Bistro Caesar salad is another popular menu item. It is made with chopped egg, pancetta and comes with a white anchovy garlic dressing. Additional menu items include Mac & Cheese Bites, citrus marinated grilled chicken sandwich and their very own take on the traditional Cuban sandwich.
Bay Bar & Bistro is at 333 S. Franklin Street.  It is located at the bottom level of the Tampa Convention Center. Parking is available in the Convention Center parking garage as well as in several surface lots.
Bay Bar & Bistro

Address: 333 S FRANKLIN ST., TAMPA, FL 33602
Phone: (813) 274-8118
Categories: Restaurant
Cuisine: Bistro
Features: Beach/Waterfront, Outdoor seating
Cost range: 10.01-20.00
Payment options: Credit cards accepted
Alcohol: No alcohol